Wagakki Band and Amy Lee

Meeting
Amy Lee, lead vocalist of the two time Grammy winning band Evanescence, whose album Fallen has sold over 17 million copies worldwide.
After watching a recording of one of Wagakki Band's live shows, Amy was blown away by their breathtaking performance. She then invited lead vocalist and guitarist, Yuko Suzuhana and Machiya, to one of Evanescence's live shows in Los Angeles, marking the beginning of their relationship.
Wagakki Band Premium Symphonic Night Vol. 2 Live & Orchestra in Osaka Castle Hall
They continued to stay in touch with each other on social media, and in February this year, Amy Lee participated as a special guest singer in a special collaboration with Wagakki Band in their Premium Symphonic Night Vol. 2 Live and Orchestra in Osaka Castle Hall. The event featured performances of Evanescence's smash hit "Bring Me to Life" alongside Wagakki Band's "Senbonzakura."
Both of their performances made the audience go wild. News of this collaboration made headlines not just in Japan but all around the world.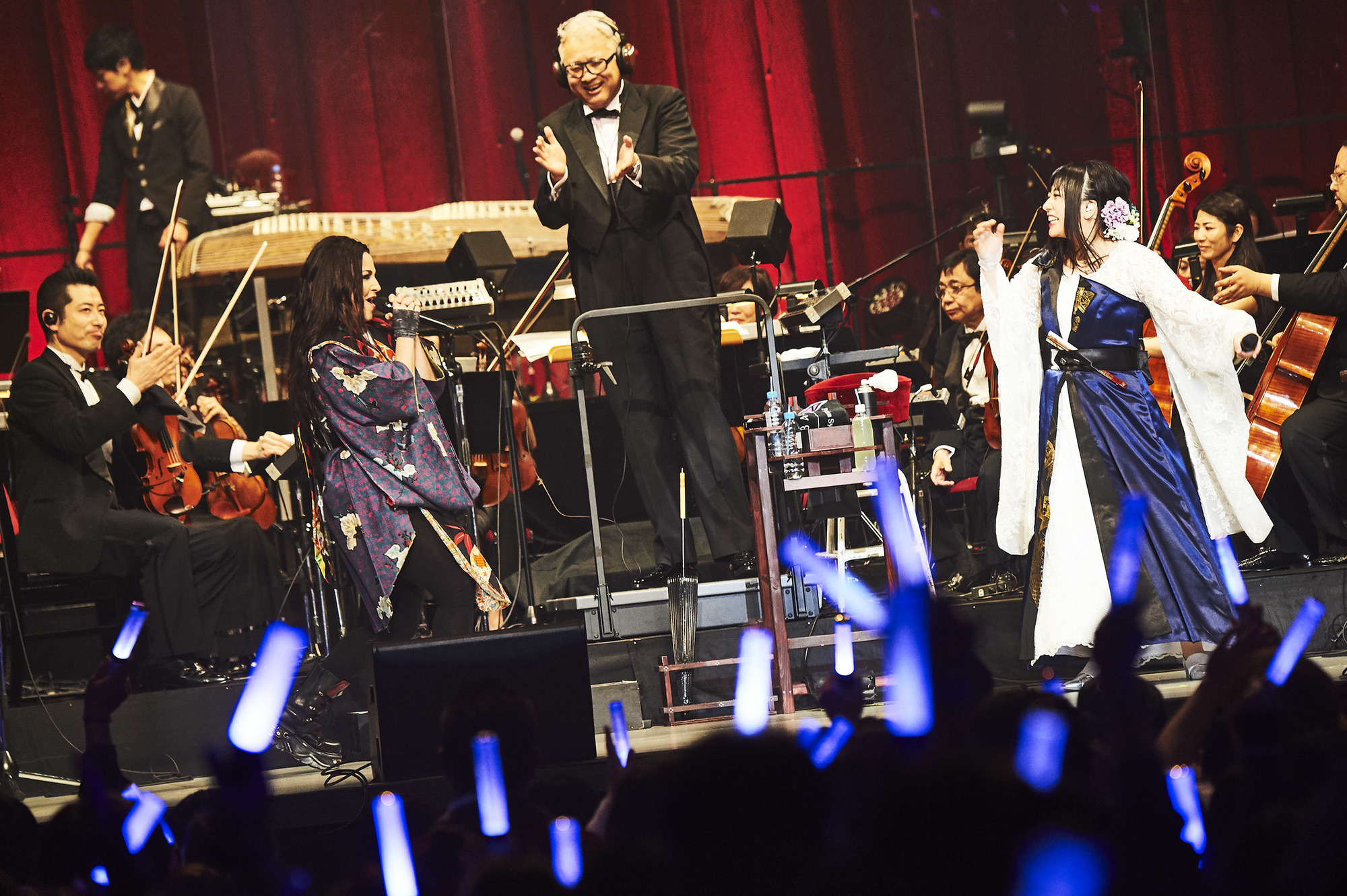 Photo by Keiko Tanabe
The birth of Sakura Rising with Amy Lee of EVANESCENCE
Together, both bands began to work together to compose a new song.
The day before the live show at Osaka Castle Hall, Machiya, the guitarist, and Amy Lee went into the studio and began work on composing the song. The next day after the live show, Yuko Suzuhana joined them and helped with the melody and the lyrics. The song they had in their minds was brought to life.
Afterwards, Amy returned to the US, and even in the midst of the global COVID-19 pandemic, she continued to work on their new song online through e-mail and social media. After many recording sessions and sending back and forth of the data, they were finally able to finish Sakura Rising with Amy Lee of EVANESCENCE.
The illustrations in the teaser of the animated lyric video, similar to the origins of the song itself, were handled by a Japanese-American illustrator. With the theme of "No matter how far away we may be, we are connected through our hearts," illustrated through the daily life in Tokyo and New York and also conveyed with the universal idea of "Sakura," the song conveys a message of a connected world.
---
Click here for more on Wagakki Band's new album TOKYO SINGING featuring Sakura Rising with Amy Lee of EVANESCENCE
https://sp.universal-music.co.jp/wagakkiband/tokyosinging/
Evanescence's collaboration with their iconic hit "Bring Me to Life" can be seen here,
Click here for more info on the lLimited Deluxe Edition DVD recording of the Wagakki Band Premium Symphonic Night Vol.2 Live & Orchestra
https://sp.universal-music.co.jp/wagakkiband/tokyosinging/#myc-products