From the new album "TOKYO SINGING", the music video for "Sakura Rising with Amy Lee of EVANESCENCE" is out now! The song is also now available on all platforms!
The collaborative song with Amy Lee (EVANESCENCE)
「Sakura Rising with Amy Lee of EVANESCENCE」
The full animated lyric video is out now!
Additionally, ahead of the album's release on October 14th (Wed), the track was released today, September 18 (Fri) at 6PM on all streaming platforms!
Like the song, the work is a collaboration between Japanese and American illustrators.
In the midst of the daily life in TOKYO and NEW YORK changing due to the spread of the coronavirus, "Sakura" appears as a symbol that we are connected in our hearts even though we are physically apart.
It is a story that connects the world.
We've also received comments from the band about the songs.
WAGAKKIBAND / Sakura Rising with Amy Lee of EVANESCENCE
◆Amy Lee(EVANESCENCE)comment
Working with Wagakkiband was a completely unique and very special experience for me. They invited me to Osaka to perform with them in a symphonic concert, and while I was there, we thought it would be fun to try and write something together. I really didn't know what to expect. Even though we speak different languages, and only had a couple of days together, the creativity just flowed and we ended up with a really cool piece of music. After I flew home, Yuko and I began writing each other lyrics back and forth, interpreting and reflecting on each other's meanings. As the pandemic hit, we wrote about the same experience from two perspectives, and in two languages. The heart of the song is about unity. We are all the same kind- humankind. We have to fight together instead of fighting each other. And though we have been pulled apart, we are still together on a deeper level, in spirit.
◆Yuko Suzuhana (WagakkiBand : Vo.) comment

We've finally finished our music in collaboration with Amy Lee of Evanescence.
About 2 years ago, Amy saw our live video and asked us to meet her. We travelled to LA and we promised to collaborate some day.
About a year and a half later, when we invited Amy as a guest at our Osaka-jo Hall concert, we went into the studio and worked together to create the general framework of the song.
After that, we exchanged emails and files, and Amy and I had many discussions about the world of the lyrics.
We prayed for each other's health and safety due to the effects of the coronavirus, and we exchanged information about the situation in each other's countries.
This song was born, crossing the barriers in language and time differences.
Now that the world is in a more equal situation, we empathize with each other more, and this was a song that can only be created now.
The result is a sound that WagakkiBand has never had before.
Crossing the ocean, this song is filled with the desire of those of us who have wished for Peace together, to be united as one and to build an era together.


◆Machiya (WagakkiBand : G.) comment

Collaborating with Amy, we've actually known each other for about two years now, so the feeling of "we finally did it!" is strong. About a year and a half after we met, we had a joint performance at Osaka-jo Hall in February this year, where we were finally able to have a face-to-face creative time with each other. She has a different focus and angle of view from us, and we had a great time discussing ideas with each other.
We sketch out ideas in the recording studio, and it's just amazing to witness Amy singing (laughs).
"Even her random humming is amazing!!!!" kind of thing (laughs).
I was very inspired by her, so I tried with all my heart and soul to respond to her requests and propose my own ideas as well as those of Yuko's, and I tried my best to bring them all together.
EVANESCECE has been a favorite of mine since the early days of Modern Loud Music in Japan, so it was a great honor for me to be able to work with Amy on this track and I'm grateful for the opportunity to meet her.

---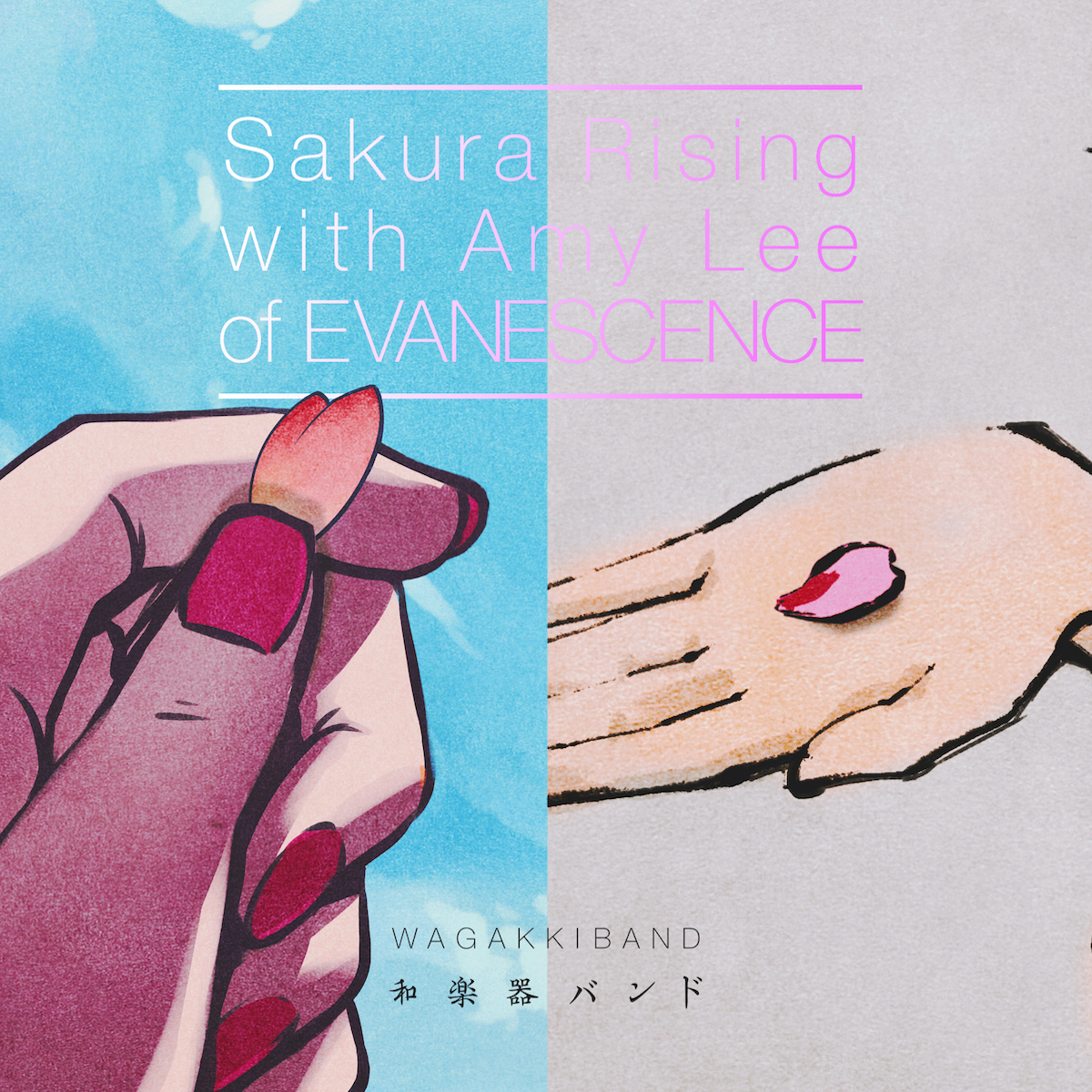 ◆Click here for download & streaming
https://umj.lnk.to/sakura_rising
◆Click here for "TOKYO SINGING" SPECIAL SITE
https://sp.universal-music.co.jp/wagakkiband/tokyosinging/en/
◆「Wagakkiband Japan Tour 2020 TOKYO SINGING」
Click here for ticket information
https://wagakkiband.com/contents/335154
---
Related article
・NEW ALBUM "TOKYO SINGING" song "Sakura Rising with Amy Lee of EVANESCENCE" teaser video released
・TOPICS : "Wagakki Band and Amy Lee"